The Italian Expo Day was featured on on RAI's program "L'Italia con voi" , aired on April 12th, 2019. Below an excerpt:
---
We would like to thank sponsors, collaborators, exhibitors, volunteers, and you, the PIB members, for making the Italian Expo Day 2019 a great success!
On April 6th we were part of something really special: over 350 visitors, 65 exhibitors, and representatives from local Italian institutions, organizations and from the Italian parliament, gathered under the same roof to celebrate PIB's 10th anniversary.
A panel on the Italian immigration in Boston spurred engaging discussions with moderator Stefano Salimbeni, parliament representative Francesca LaMarca, Italian Consul General in Boston Federica Sareni, Boston COMITES President Maurizio Pasquale, and many other key panelists.
An exciting reception with 250 participants and Italian food offered by local restaurants gave way to Marco Pignataro's quartet, which concluded the evening filling the Dante Alighieri's building with passionate top jazz.
---
Event schedule:
4 to 7pm Meet Italian Associations, Professionals & Businesses – free attendance
7 to 8pm Panel discussion on Italian immigration (sold out)
8 to 11pm Cocktail reception and jazz concert – register below (sold out)
Program Details:
Italian Expo 4 – 7pm
The Expo takes place at the Dante Alighieri Society of Massachusetts in Cambridge. You will have a chance to meet and connect with a variety of professionals and service providers, including: tailors, artists, architects, importers, restaurateurs, authors, musicians, dentists, language teachers and schools, tour operators, tax/wealth/immigration and real estate experts, electricians, landscapers, cultural associations and many more!
Italian Consulate representatives will present the following seminars:
16:30 – Italian Citizenship Iure Matrimonii (by marriage) and new regulations
Cittadinanza Italiana Iure Matrimonii e nuove normative

17:15 – Visas and legal office
Visti e servizi notarili
18:00 – Registration of vital records, registry and passports
Stato Civile, anagrafe e passaporti
Gray, Gray & Gray, an accounting and tax advisory firm will present the following seminar: "Tax Considerations for Foreigners Living in the US" at 4:45 and 5:45pm, along with making themselves available to discuss your business needs.
To all travel lovers, you could be drafted for a free three-nights stay in the Italian Chianti region through tour operator Donna Franca Tour.

---
Panel Discussion on Italian Immigration 7-8pm
Starting from 7pm, you are invited to attend a panel discussion on immigration; it will feature speakers sharing their experience as immigrants in the USA.
Registration is mandatory and free. The number of attendants is restricted to 60 first-come-first-serve so don't wait and fill in the form below:
---
Reception and Jazz Concert 8:30 – 11pm
Enjoy tasty refreshments and get ready to shuffle your feet to the music of the Marco Pignataro Jazz Quartet. Mr. Pignataro is a world-renowned saxophone player, composer and Director of the Berklee Global Jazz Institute.
Attendance is limited to 250 due to space limitations.
Having registered for this event does not make you a PIB member automatically; to join PIB for free click here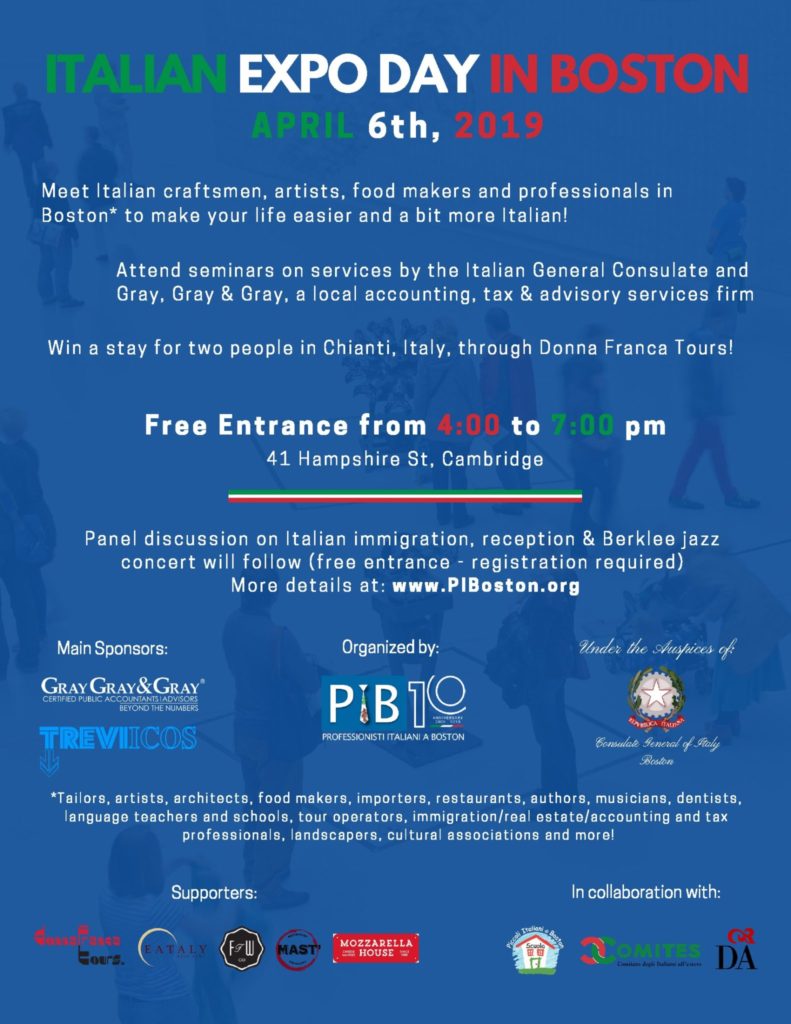 Under the Auspices of: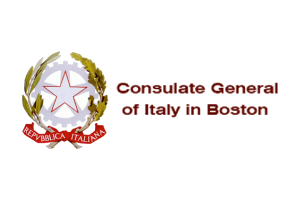 Italian Expo is proudly sponsored by:
Collaborators:
---