41 Hampshire St., Cambridge – April 6th, 2019
Meet some of the best Italian craftsmen, artists, foods makers and professionals in Boston
Event schedule:
4 to 7pm Meet Italian Associations, Professionals & Businesses – free attendance
7 to 8pm Panel discussion on Italian immigration – register below
8 to 11pm Cocktail reception and jazz concert – register below
* You can choose to attend the immigration panel and the jazz reception, or just one of the two: please register accordingly
Program Details:
Italian Expo 4 – 7pm
The Expo takes place at the Dante Alighieri Society of Massachusetts in Cambridge. You will have a chance to meet and connect with a variety of professionals and service providers, including: tailors, artists, architects, importers, restaurateurs, authors, musicians, dentists, language teachers and schools, tour operators, tax/wealth/immigration and real estate experts, electricians, landscapers, cultural associations and many more!
Italian Consulate representatives will present the following seminars:
16:30 – Italian Citizenship Iure Matrimonii (by marriage) and new regulations
Cittadinanza Italiana Iure Matrimonii e nuove normative

17:15 – Visas and legal office
Visti e servizi notarili
18:00 – Registration of vital records, registry and passports
Stato Civile, anagrafe e passaporti
Gray, Gray & Gray, an accounting and tax advisory firm will present the following seminar: "Tax Considerations for Foreigners Living in the US" at 4:45 and 5:45pm, along with making themselves available to discuss your business needs.
To all travel lovers, you could be drafted for a free three-nights stay in the Italian Chianti region through tour operator Donna Franca Tour.

---
Panel Discussion on Italian Immigration 7-8pm
Starting from 7pm, you are invited to attend a panel discussion on immigration; it will feature speakers sharing their experience as immigrants in the USA.
Registration is mandatory and free. The number of attendants is restricted to 60 first-come-first-serve so don't wait and fill in the form below:
---
Reception and Jazz Concert 8:30 – 11pm
Enjoy tasty refreshments and get ready to shuffle your feet to the music of the Marco Pignataro Jazz Quartet. Mr. Pignataro is a world-renowned saxophone player, composer and Director of the Berklee Global Jazz Institute.
Registration is once again free but mandatory. Attendance is limited to 250 so don't miss your spot.
Please note that to attend the panel and the concert you will need to register to both separately. Registering to one event, does not secure a spot for the other one!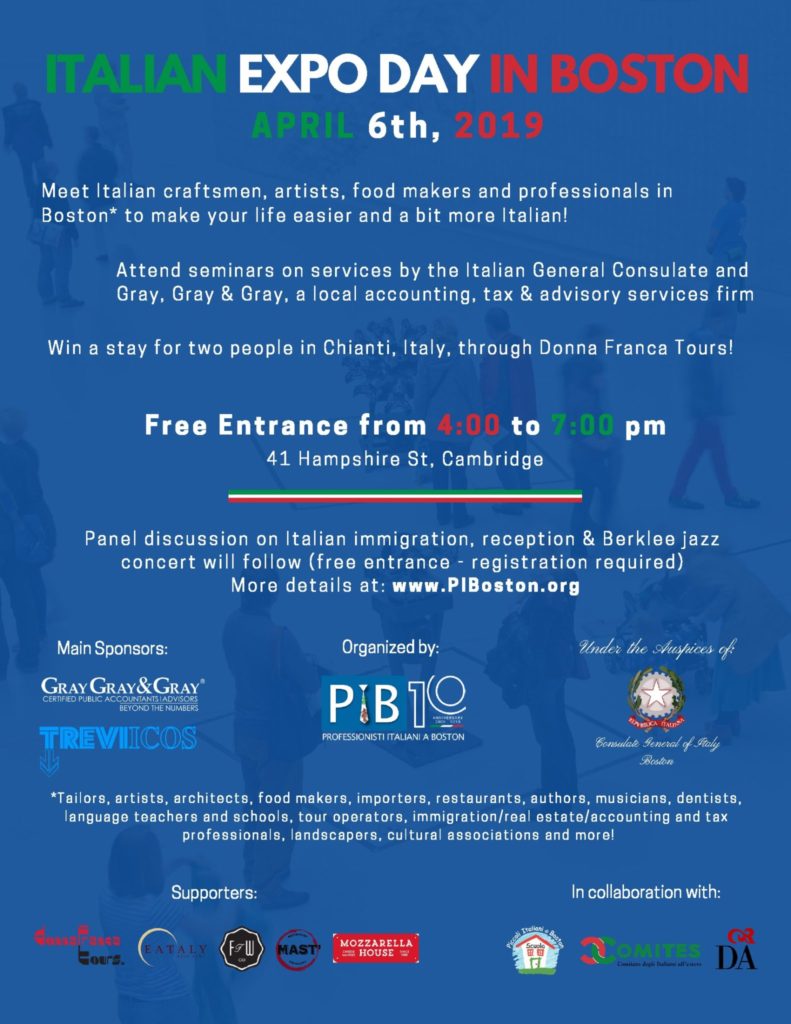 Under the Auspices of: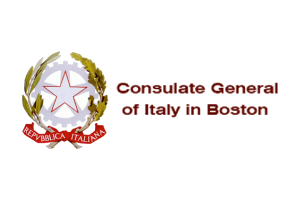 Italian Expo is proudly sponsored by:
Collaborators:
---