The Scuola Piccoli Italiani di Boston (Scuola PIB), formerly known as Italian Saturday School for Boston Children (Scuola Italiana del Sabato PIB per Bambini dell'Area di Boston) was launched to fulfill the historically unmet demand of full-immersion Italian classes for children who already speak Italian, in New England.
The first classes took place in March 2014 for a trimester with approximately 15 students; the first full year of classes started in September 2014 for 30 students in collaboration with the Pirandello school in the North End. Since September 2015, to optimize results and ensure full-immersion courses tailored for Italian-speakers, the school is independently managed in Cambridge, MA. Approximately 50 students (3 – 12 years old) attended the 2015-2016 school year, over 70 students registered to the 2016-2017, when the school launched also a playspace for 2 year-old children. Over 130 children were registered to the 2017-2018 school year, making the Scuola PIB the largest of this type in all of North America.
All courses are given entirely in Italian, as the school follows a full immersion method. For children 6 and older, formal language teaching is integrated with special lessons about Italian geography, architecture, technology, arts and general culture.
The 2016-2017 school year was inaugurated by Stefania Giannini, Italian Minister of Education, University and Research.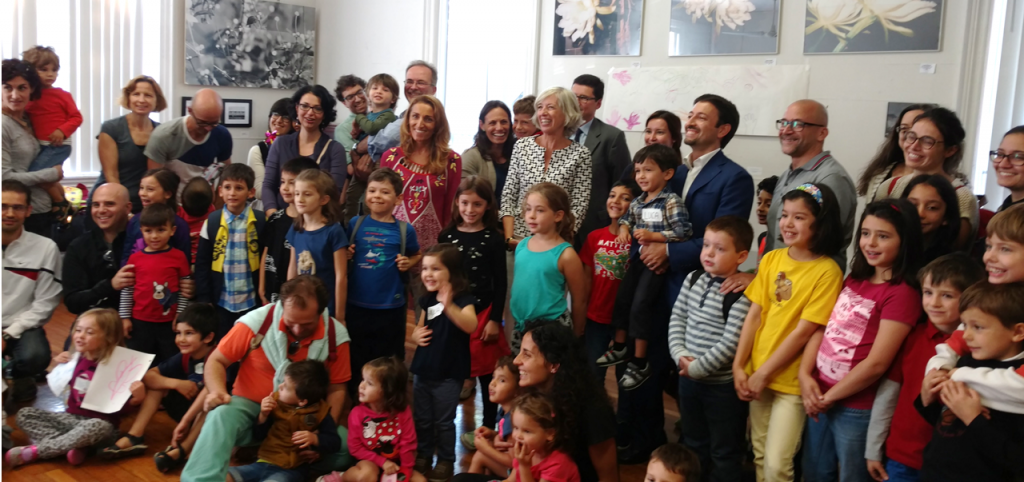 To register your child (age 2-13) to Scuola PIB's Italian classes visit www.ScuolaPIB.org
Fellowships for families with yearly income no greater than $60K are available
---
What
The first and only full-immersion Saturday Italian classes in New England. School textbooks for optional homework. Professionally designed programs alternating comprehension, speaking, grammar, writing exercises and games. Mother tongue committed teachers. A Saturday joy for children and parents!
What else: Playdates, season parties, Italian soccer classes. Friendship
Why
Children do not like to feel different from their peers. If they don't have many Italian-speaking friends, at a certain age they chose not to speak Italian even if both parents do. Even if they speak Italian, it is difficult for them to find enough reasons to learn how to read and write in Italian. Mastering a language is the only real way to assimilate a culture, and keeping the Italian culture promotes closer relations for these children with their Italian-born parents, the rest of their families, and ultimately constitutes a competitive advantage once they grow as they will be able to exploit Italian professional excellence in US and overseas. Therefore, we believe that our ultimate goal is not "just" to help these children maintain/improve their Italian, but primarily generate friendships for life.
Furthermore, scientific research demonstrated clear advantages for bilingual individuals who, for example, develop more brain connections enabling solution to a problem, and are more resistant to diseases such as Alzheimer: Ghazi et al, Brain and Language 2013; Perani et al, PNAS 2017.
Where
Cambridge, MA, 10 minutes walking from the Central station of the red T line
Who
8 Teachers, 2 back-up teachers, 1 Director, 20 volunteers
For whom
Children between 2 and 13 years of age who already speak (or understand, if younger than 4) Italian, who want to study and play, in Italian only. Parents (Italian and not) of students chat (in Italian) at the local market or at nearby cafes
How
Thanks to the hard work of PIB teachers and volunteers, CASIT and Consulate collaborators, PIB generous donors, program sponsors, parents of the students
If interested, get in touch with us via our contact us page to come visiting the school on a Saturday morning. Kids can join along the year so they can get better acquainted with classmates and be more comfortable when the next school year starts. Our teachers and volunteers are always proud to show you the results of their hard work!
Partners
Only two schools in North America offer full immersion Italian classes similarly to ours (out of regular weekly school hours):
The Italian School in New Jersey, in Morristown, NJ: www.italianschoolnj.com
The Fermi Italian School in Chicago, IL: www.siefchicago.org
---


---