Scanzonati Album Release Concert - Dec 2nd
---
When:
December 2, 2022 @ 8:00 pm – 10:00 pm
2022-12-02T20:00:00-05:00
2022-12-02T22:00:00-05:00
Where:
City Winery
80 Beverly Street
Boston
MA 02114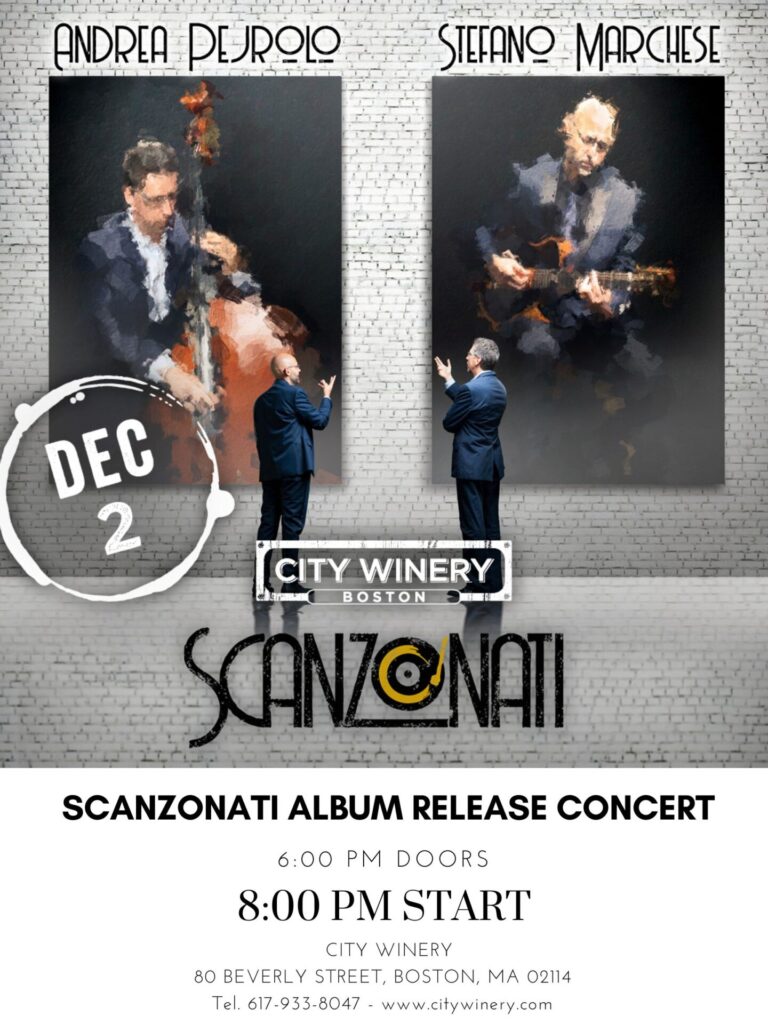 On Friday 2 December at 8 pm the City Winery in Boston will host the release concert of "Scanzonati", the
new album by Stefano Marchese and Andrea Pejrolo, to be released on 26 November on all digital
platforms.
The path that led Stefano Marchese and Andrea Pejrolo to the new recording, passes through the
collaboration with great artists including Bobby McFerrin, Luis Enrique, Mogol, Carmen Consoli, concerts in
important venues, the job as professor at Berklee College of Music and the artistic direction of the "Sounds
of Italy" and "Jazz in the park" festivals.
At City Winery in Boston, on stage next to the two leaders: Lihi Haruvi (sax), Giò Albanese (accordion), Nick
Grondin (guitar), Giuseppe Paradiso (drums), Bengisu Gokce (violin) and many special guests.
Tickets are on sale at the link http://bit.ly/3UIjOYU. Info at www.citywinery.com.
In the 10 songs of "Scanzonati" there is a fusion of Italian songwriting with contemporary jazz harmonies that
the two musicians have made their own while working in the States. The main element is the Italian
language, whose cultural value is promoted by the duo as a symbol of inclusion and diversity Stefano
Marchese's solo voice, precise, sincere and enthralling, is the unifying element of Scanzonati's sound, while
Andrea Pejrolo's sophisticated arrangements take listening by the hand in a musical journey full of surprises
and original sounds. The elegance of the melodies is underlined by the presence of violin, cello, acoustic
guitars, double bass and saxophones, meeting the rhythms of jazz and the more visceral sounds of the
Italian musical tradition, where drums, percussions, accordion and guitars bring out the energy of the whole
band.
Stefano Marchese is an award-winning Italian singer-songwriter and educator. He has collaborated with
Grammy winners Bobby McFerrin and Luis Enrique, among others. Thanks to his solo album Radici, in 2021
he was nominated by Serafini as one the 100 most relevant Abruzzesi abroad.
The band leader of Scanzonati, along with bass player and Berklee faculty Andrea Pejrolo, Marchese has
collaborated with stars of Italian musica leggera such as Mogol and Carmen Consoli. A radio and TV host
and producer, his show L'Italia chiamò was aired on more than 40 TV channels in Italy and Europe, and has
included Oscar-winning composer and director Nicola Piovani and Italian jazz and pop stars such as Chiara
Civello, Zucchero, Levante, Dardust, and GeGè Telesforo.
A Berklee faculty member and teaching artist for the Eliot School, Marchese has presented at national and
international music education conferences and published work in music education journals on the topic of
culturally and linguistically responsive teaching and technology in music education. As artistic director, he
curates several series and festivals in New England, such as Jazz in the Park, Sounds of Italy, and Piazza
All'Aperto among others.
Andrea Pejrolo is a national and international composer, producer, arranger, bassist, and music educator in
Boston, Massachusetts. He holds a Ph.D. in jazz studies from New York University, a Master in Composition
for Film, TV, Theater and Multimedia from the University of Bristol (U.K.) and a Music Diploma in Jazz
Performance from Manhattan School of Music in New York City. Some of his most recent collaborations and
projects include "Scanzonati, Sounds of Italy, Lou Salloum and Jamie Helou (Lebanon, Beirut), Kukaio Film
Production (Munich, Germany), Traits de Marque in Paris, iAcoustica Studio drum library, iDrum Rock
Edition for iPhone/iPad in collaboration with Izotope, arrangements and recording with the City of Prague
Philharmonic Orchestra, Don Sebesky, ABC, CBS, Cy Coleman, Burning Petals Music Production (U.K.), the
Broadway Show "Swing" (St. James Theater, NYC), and the Grand Canyon Music Festival. Andrea is also
the author of various books, articles and essays on the subject of music technology and jazz analysis. His
most recent publications include: "Creating Sounds from Scratch" for Oxford University Press
(http://a.co/8JuPJ78), and "Acoustic and MIDI Orchestration for the Contemporary Composer" for Focal
Press (http://a.co/aLBw63e). Andrea is currently a Professor (and former Chair) in the Contemporary Writing
and Production Department at the world-renowned Berklee College of Music.
---