PIB Sailing Championship & Award Ceremony 2017 - Jul 14th
---
When:
July 14, 2017 @ 6:30 pm – 8:30 pm
2017-07-14T18:30:00-04:00
2017-07-14T20:30:00-04:00
————— Registrations Closed —————
Professionisti Italiani a Boston and the Italian General Consulate in Boston cordially invite you to the 2017 PIB Sailing Championship annual Award Ceremony.
For the 5th consecutive year, two young sailors from the nonprofit sailing school "Scuola Vela Mascalzone Latino" in Napoli have been selected, based on their credits, to race against three of the most renowned sailing centers in Boston.
The final award ceremony will take place at Italian Consulate in Boston, where the Consul Nicola de Santis will award the Neapolitan sailing team.
All are invited to participate, to support and honor these young sailors and most importantly to make this week a life-changing event for them.
The "Scuola Vela Mascalzone Latino" was founded by Vincenzo Onorato, President of the Italian racing team "Mascalzone Latino", which competes in many different international sailing formats. The professional team was winner of six world sailing cups and competed in two America's Cups.
The sailing school was founded with the goal of taking kids off the streets of the most underserved neighborhoods of Naples (Italy) and giving them the opportunity to learn how to perform better not only in sailing but also at school, and in life. This experience wants to be a reward for their efforts, and an incentive to do better. In both cases, it aims to motivate them to work hard to achieve their goals and give them hope in their potentials.
Regatta week schedule (for Scuola Vela Mascalzone Latino sailors)
Tuesday July 11th, 5:30PM, at MIT Sailing Center
Thursday July 13th, 5:30PM, at Courageous Sailing Center
Friday July 14th, 9:00AM, at Community Boating
Final Award Ceremony (open to the public, mandatory free registration on this page)
Friday July 14th, 6:30PM, at the Italian General Consulate in Boston (600 Atlantic Ave, Boston, MA)
Event sponsored by: Danforth Dental, Logomix
We thank the FLS International School and the Saraceni Family for their kind support with this event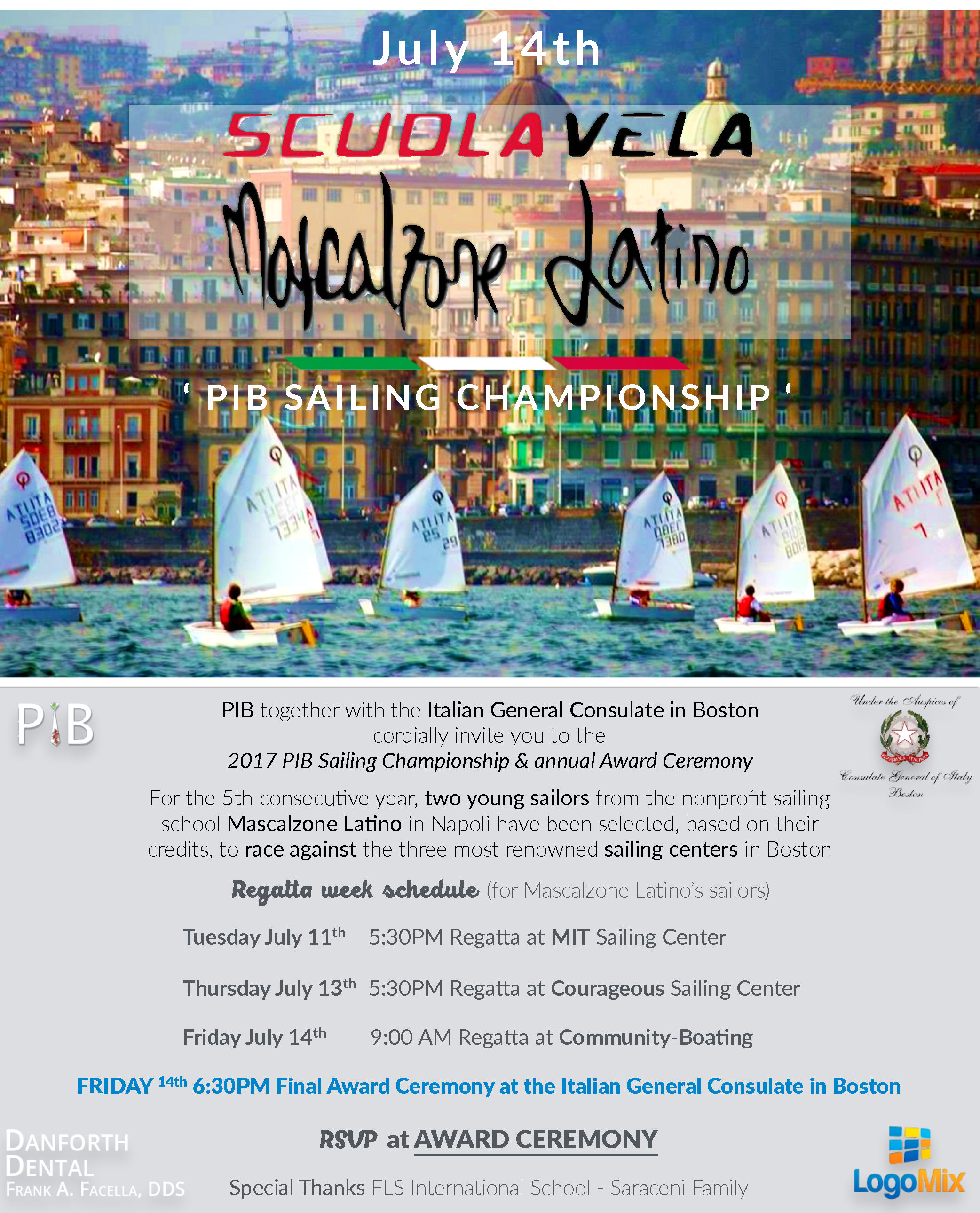 ---