Home Cooking Series - an Italian Touch to your Thanksgiving Dinner with Marisa Iocco - Nov 21st
---
When:
November 21, 2020 @ 2:00 pm
2020-11-21T14:00:00-05:00
2020-11-21T14:15:00-05:00
Welcome to the Italian Cooking Series
Marisa Iocco, Executive and Co-owner of Needham's Ristorante Spiga will host this Thanksgiving Italian Cooking Series Special.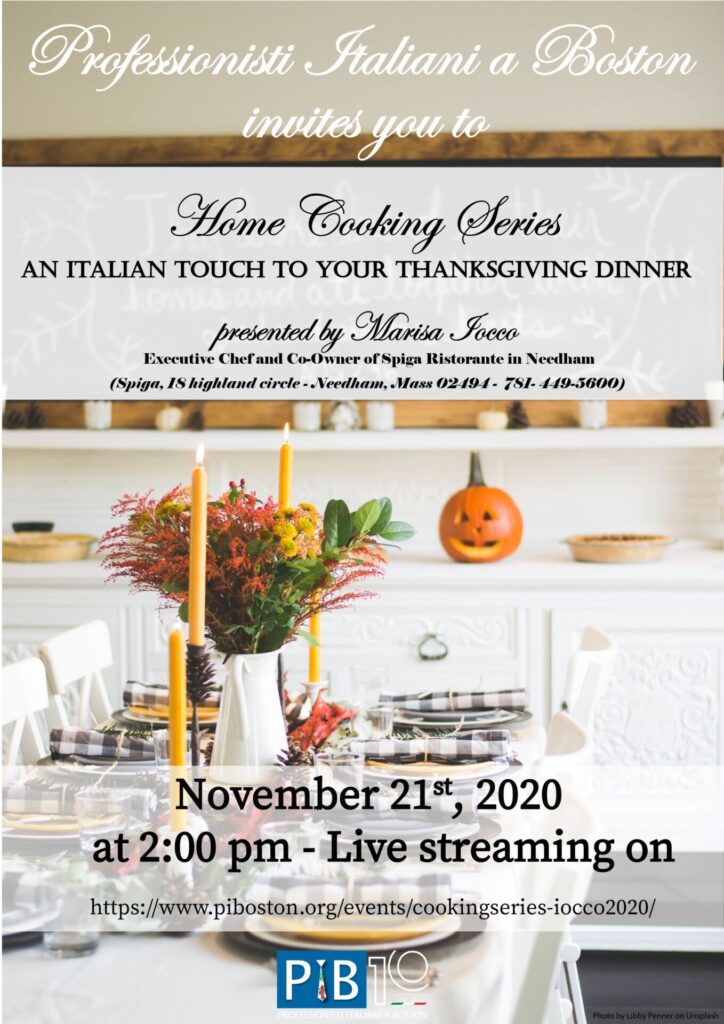 ---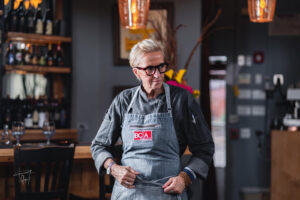 Today's chef bio: Marisa is a big part of the female iconic Boston-based chefs that hasn't needed last-name notation because the food across their specialties has been their calling card. And when it comes to Italian, no none has done more to introduce the region to creative, authentic fare than Marisa Iocco.
A native of Abruzzo in Southern Italy's region and trained in architecture, fine art and the fine art of cooking, as Boston's only Italian-born female executive chef, Marisa's decades-long legacy of soulful, edgy, groundbreaking interpretations of traditional Italian has tempted, tickled and filled the stomachs of loyalists who have followed her remarkably criss-crossed path of restaurants across the city.
Marisa opened her first restaurant in downtown Boston, Galleria Italiana, to huge ac- claim, earning raves from critics and consumers locally, regionally and nationally.
Morph-ing from a popular lunch buffet to the city's hottest dining room and one of 1990's top new Italian eateries in the country, Marisa's name became synonymous with modernity. "I like to keep it simple," says Marisa, "but you will be surprised at the sophistication be-hind modern Italian cuisine. It's what happens when you have beautiful ingredients combined with the technique and love for food I learned from my mother."
Marisa's family tree of Italian restaurants is astonishing to anyone new to her story yet longtime fans know it more simply as her legacy. Following Galleria Italiana's success, Marisa opened La Bettola, South End Galleria, Bricco, Umbria, and Mare—the North End's lauded seafood restaurant recognized by Esquire and Conde Nast Traveler, among others.
Marisa also consulted for restaurants, including Spiga in 2007. Located in Boston's metro West area some 12 miles from the city's center, under Iocco's care, Spiga turned from tired trattoria to trusted local favorite serving rustic, hearty Italian. AZer its re- launch, Marisa went on to be the executive chef at two additional restaurants (Gennaro's Five North Square and Scopa); she launched a line of prepared foods, "Cibo Cibo con Amore" (Food with Love); and she recently published her memoir/cookbook, Every Menu Is A Love Story (Ecco Perche Amore). In 2017, she returned to Spiga as partner – owner where she face-liZed the space and menu to create a wholly reimagined experience. Today's Spiga showcases Marisa's award-winning career built on menu mastery; sensing trends; ingredient reverence; and a less-is-more approach to creating memorable, Instagram-worthy meals that use bounty from land and sea. Each recipe, with a whimsical twist.
As Boston's foremost Italian-born female executive chef and restaurateur, Marisa is a role model for female cooks entering the field. Her passion, talent, and strength of body and spirit—both in the kitchen and in the community—have broken barriers for females in top city kitchens. Her artist's passion; architect's eye; her commitment to ingredient integrity; and her resolute dedication to hospitality elevate her prowess in a kitchen, with a menu, and with her fans.
How to live-stream this event: you won't have to leave the comfort of your home, just log in on this event page at 2:00 PM (a video player will become visible) or on the PIB Facebook page to live stream the class. Please remember to refresh your page if you log in at exactly 2pm or a bit earlier, the video player may take a moment to appear.
In case you miss it, this event will be recorded and shortly after the event's end, made available on this page and our PIB youtube channel – don't forget to subscribe!
---