Cooking with the Calamari Sisters @ the Regent Theatre
---
When:
2018-04-12T14:00:00-04:00
2018-04-12T14:15:00-04:00
Where:
the Regent Theatre
7 Medford St
Arlington, MA 02474
USA

COOKING WITH THE CALAMARI SISTERS:
JUST WHEN YOU THOUGHT IT WAS SAFE TO GO BACK INTO THE KITCHEN
Limited Six Week Run April 12 to May 20, 2018 at the Regent Theatre in Arlington, MA
BOSTON, Ma. (February 13, 2018): Mangia Italiano! Hilarity, delicious dishes and two over-the- top plus-size Italian sisters from Brooklyn, stars of their very own fictional cable television show, take you on a tour-de-force of show tunes, pop and Italian songs & cuisine. Songs like (Volare, Botcha – Me and much more; you'll find yourself dancing and laughing through a very special cooking musical comedy in Cooking With The Calamari Sisters.
New York Newsday called Cooking With The Calamari Sisters "delightful and absolutely delicious."
Straight from sold-out engagements across the country, be prepared to eat your heart out and laugh until your sides hurt as Delphine & Carmela perform outrageous musical numbers while designing their latest culinary offerings.
Don't be surprised if they get a bit naughty when they update their treasured family recipes with saucy secrets and anecdotes that will leave you rolling in the aisles. And who knows? You may get a chance to sample these two sisters' kitchen creations.
"Cooking With The Calamari Sisters is an uproarious and unique show that will keep you laughing out loud from curtain to curtain." New Jersey Herald.
"Laugh Out Loud Funny!" – Philadelphia Inquirer
"Wicked Naughty Humor!" – BroadwayWorld.com
Regent Theater
7 Medford St. Arlington, MA
April 12 – May 20, 2018
Shows: Thursday 2 & 7 pm; Friday 8 pm; Saturday 2 & 8 pm; Sunday 2 pm Tix: $45 – $65
Call: 1-855-448-7469 or PlayhouseInfo.com
ABOUT THE CALAMARI SISTERS Created by Jay Falzone, Stephen Smith and Dan Lavender.
DELPHINE CALAMARI was born in Bay Ridge, NY, the eldest daughter of Rocco and Vittoria Calamari. By age seven, she was assisting her grandmother cater every major event at the legendary Rigatoni Lodge of the Brooklyn Federation of Italian-American Societies. Her love for meat began soon there after, and within a few years she was known throughout the borough as "that Italian girl that can tell you which butcher a sausage comes from with her eyes closed." By the time Delphine was a young woman, it was widely believed that unless you served Delphine's meatballs at your wedding reception, your marriage would be doomed and you would never conceive a son to carry on your family name. In addition to cooking, Delphine has always been interested in the arts, singing countless duets with her sister, Carmela, at St. Lawrence of the Roasted Martyrs Church and Convent. Their nativity of cold meats and dairy was always a huge crowd pleaser at Christmastime. Also, as a young girl, Delphine attended Miss FloFlo's School of Dance for Bigger Girls, where she excelled until she was asked to leave due to an unfortunate fight with a fellow dancer, Tula Mercantelli, over a piece of Easter pie. Today, Tula is carrying her third illegitimate child by a third father, and it serves her right. Undaunted, Delphine was Founder and President of the Pasta and Meat Club at St. Lady of the Divine Pain High School, as well as unofficial Cookie Maker for the Drama Club, where she also landed such roles as Nurse Flinn in "One Flew Over The Cuckoo's Nest," the Kit Kat Club Janitor in "Cabaret," and Rusty Charlie in "Guys And Dolls." Upon graduating, she was fired from several restaurant jobs for forcing patrons to eat after they were full. Jobless, she teamed up with her sister, Carmela, and founded the borough-famous Calamari Sisters' Catering Company. They soon became well-known for their song-and-dance-and-cooking routines, being hired by such notable public figures as Ed Koch, Hoda Kotb, and Nancy Harrigan. Knowing that the next natural step for them was television, when the opportunity presented itself, they grabbed it. Four years ago, their Uncle JoJo accidentally went swimming without taking off his cement block, and left them a large inheritance, which they used to finance their public access cable TV show, MANGIA ITALIANO. Delphine wishes to thank her family for all of their support (except her Aunt Viola, go to hell), especially Uncle Geno for being in the right place at the right time when this kitchen set fell off the back of that truck! Delphine sends much love to all of her fans, and invites them to mangia, MANGIA!
CARMELLA CALAMARI lightest daughter of Rocco and Vittoria Calamari, weighing 15 pounds at birth. Carmela began turning heads with her cooking from a very young age, combining a lemonade stand with a kissing booth at the age of eight. After being promptly shut down by her uncle, and several of her customers mysteriously disappearing, she turned her attention to more conventional outlets and began competing in the Bay Ridge pageant circuit. While qualified, Carmela was crowned Miss Salami of Bay Ridge, first runner-up Miss Wooden Spoon of Bay Ridge, and Miss Congeniality for Miss Stuck Pig of Bay Ridge; always wowing the crowd with some extraordinary new and unusual talent. It was while competing for the famous Miss Macaroni of Greater Brooklyn when Carmela was allegedly caught feeding one of the judges minestrone soup out of her Gucci knock-off pump. Although never conclusively proven, she was disqualified from any and all future Italian pageants in all five boroughs. Never one to accept defeat, Carmela dove into helping her sister, Delphine, and their grandmother cater events at the Rigatoni Lodge, becoming the fastest cake frost-er in all of Brooklyn. In addition, she became the darling of the St. Lady of the Divine Pain High School's Drama Club, playing such roles as Effie in "Dreamgirls," Eliza Doolittle in "My Fairy Lady," and Mary in "The Secret Garden." After graduation, Carmela attended DeVry University for a year and a half before pursuing her dream of a life in the show biz. She came close to her big break when she was cast as Kathy Bates butt double, but the MPAA deemed the scene "of questionable taste," and Carmela's film debut was never seen. However, when her sister, Delphine, suggested they start a singing-dancing-cooking business together, Carmela knew it was the perfect marriage of hertwo favorite things: cooking and performing, and so Calamari Sisters' Catering Company was born. Achieving neighborhood attention for their unusual catering style incorporating song-and- dance routines, she always knew that she needed a medium that would allow more people to experience her unique caliber of entertainment. Public access cable was the answer!! She became the star of MANGIA ITALIANO! Carmela wishes to thank her Uncle JoJo for never making good on his bets, and her devoted fans for their countless letters, pictures (both G-rated and otherwise), and articles of clothing (both laundered and otherwise) the past four years. Carmela wishes to leave you with a quote: "Dreams are like butterflies. Don't let them go 'causethey won't come back. So hold onto them tight even if kills the butterfly."
For additional information, contact:
Adam R. Klein 617-431-1174 adam@callananklein.com
Press photos available here.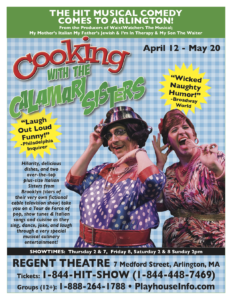 ---