Professionisti Italiani a Boston, in collaboration with MITaly and the Italian Society at Harvard Kennedy School, organized a meeting with the Italian writer Dacia Maraini on March 4th 2011. The event was kindly hosted by the Dante Alighieri Society in Cambridge.
The first part of the evening hosted an open discussion with the writer, who spoke about the importance of literature in everyday culture and talked about current cultural events in Italy. To read the report of this event click on the image below.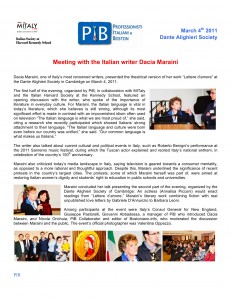 Maraini concluded her talk presenting the second part of the evening, organized by the Dante Alighieri Society of Cambridge: the actress Annalisa Picconi would enact readings from "Lettere d'amore," Maraini's literary work combining fiction with real unpublished love letters by Gabriele D'Annunzio to Barbara Leoni.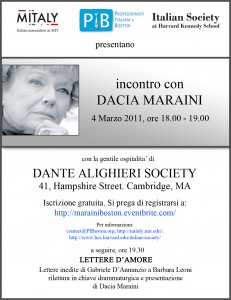 For more information regarding this event please contact [email protected] or visit http://mitaly.mit.edu/ , http://www.hcs.harvard.edu/italian-society
We are looking forward to seeing you at the next events!
Thank you,
The PIB Team