Visa Options and Requirements for Italians Living in the US - Apr 13th
Posted On March 20th, 2015
/ Posted by marco
/ Category:
PIB News & Events
,
Seminars
---
PIB Seminar: Visa Options and Requirements for Italians Living in the US
Dear PIB Members,
This is the third event in the series of 2015 seminars organized by PIB in collaboration with the Italian Consulate of Boston. The seminar will feature Meredith Stewart, partner of Pappas Lenzo and Stewart, who will provide an overview of requirements that should be fulfilled in order for Italians to obtain and maintain a working/non-working visa in the United States. A Q&A session will follow the presentation.
The fourth seminar of the 2015 series will follow in the upcoming months.
Topic: Seminar – How to obtain/maintain a working visa for the United States
When: Monday April 13th, 7:00pm (registration starts at 6:30pm).
Where: Italian Consulate of Boston, 600 Atlantic Ave, Boston, MA 02210 – Map
(É necessario venire muniti di documento di identità americano o passaporto per poter accedere all'edificio)
Registration (mandatory): https://visaoptions2015apr.eventbrite.com. There are 60 tickets available for this event. However if the event is overbooked, we plan to repeat the seminar in the following weeks.
Thank you !
The PIB Team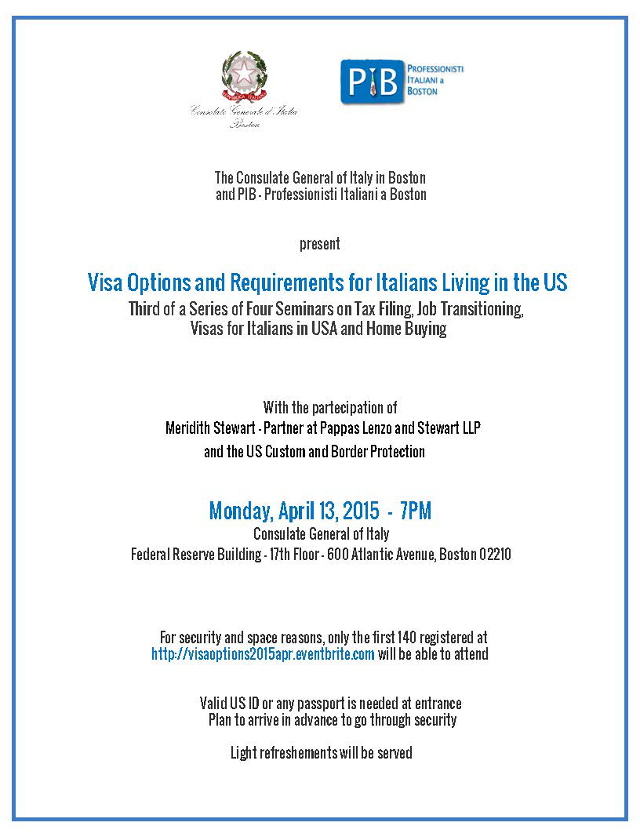 ---