Summer BBQ 2015 - Jun 30th
Posted On June 26th, 2015
/ Posted by chiara
/ Category:
Non-PIB News & Events
---
Join MITaly and the Harvard Italian Society for this summer BBQ full of fun and networking!
When: June 30, 2015 at 7:00 PM
Where: MIT Sailing Pavillion – 134 Memorial Dr, Cambridge, Massachusetts 02139
It's a Moonlight Sailing night: there will be full moon, and we'll have some skippers ready to take us to sail on the river after dinner!
The event is completely free for everyone, and sailing is free too. Visit the Facebook event page! There are limited places, so please be on time!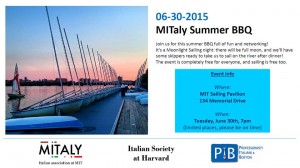 ---