Space Conference – Mar 18th
Posted On March 7th, 2014
/ Posted by Giovanni
/ Category:
PIB News & Events
---
Professionisti Italiani a Boston (PIB), the Consulate General of Italy in Boston, and MIT Italy, are proud to host the seminar: "Space Day Conference. Two Human Exploration Experiences and Innovative Challenges".
WHEN: Tuesday, 18 March 2014, 6:30pm-9:00pm
WHERE: MIT building 66, room 110 (25 Ames st, Cambridge, MA; near the Kendall T station)
Keynote speakers will be an Italian and an American astronaut:
(i) Col. Roberto Vittori, ESA (European Space Agency)
(ii) Dr. Jeffrey A. Hoffman, NASA (National Aeronautics and Space Administration)
We will hear about their personal experience and the importance of space exploration for our daily lives. A discussion with the public will follow, than a cocktail.
Registration is free at: http://PIBspaceconference2014.eventbrite.com
We anticipate this fascinating topic will attract a larg public; the room has 100 seats, therefore we recommend to register in advance and to come in time.
Thank you for your continued interest towards our efforts to plan interesting activities.
The PIB Team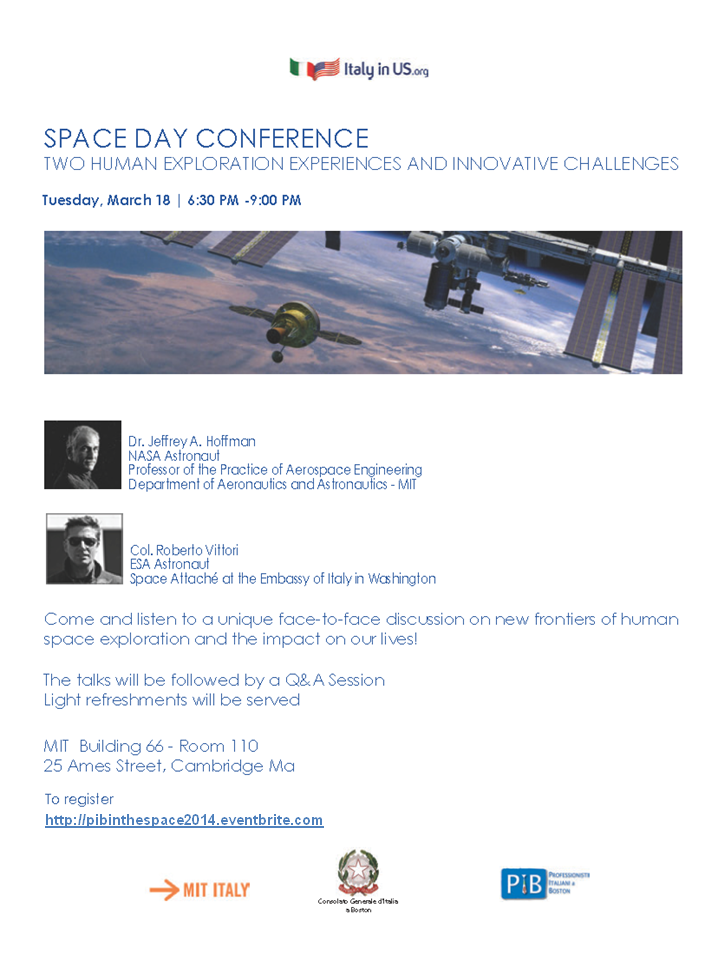 ---