Iscrizione Bimbi e Maestri Corsi Italiano 2017-2018
Posted On June 22nd, 2017
/ Posted by Giovanni
/ Category:
PIB News & Events
---
La Scuola Italiana del Sabato – PIB per bambini di Boston e del New England accetta pre-iscrizioni (dando acconto) per i corsi 2017-2018.
La scuola, fondata nel 2014, insegna ad oltre 80 bambini tra i 2 e i 13 anni, divisi in 6 classi basate sull'età e sul livello di comprensione lessico/grammaticale di ciascuno; è l'unica in New England a tenere, di sabato, esclusivamente corsi avanzati full immersion in italiano e per questo accetta solo bambini che già conoscono l'italiano. La Scuola offre anche uno spazio-gioco per bambini di 2 anni di eta'. La scuola e' in costante crescita per cui cerca due maestri madrelingua, anche senza pregressa esperienza di insegnamento, disposti a insegnare tutti i sabati da settembre a giugno, o ad aiutare (come volontari) gli attuali maestri, o a far supplenze quando un maestro deve assentarsi.
Dove: Cambridge, MA, a 10min a piedi dalla fermata Central della T (l'indirizzo verra' fornito a settembre)
Quando: fine settembre 2017 – meta' giugno 2018
Cosa: corsi tenuti interamente in italiano; libri; materiali; allegria!
Con chi: maestri italiani madrelingua; tanti amici!
Per maggiori informazioni visitare la pagina della Scuola Italiana del Sabato PIB cliccando qui.
Per domande scrivere tramite la pagina contact us
Vi aspettiamo!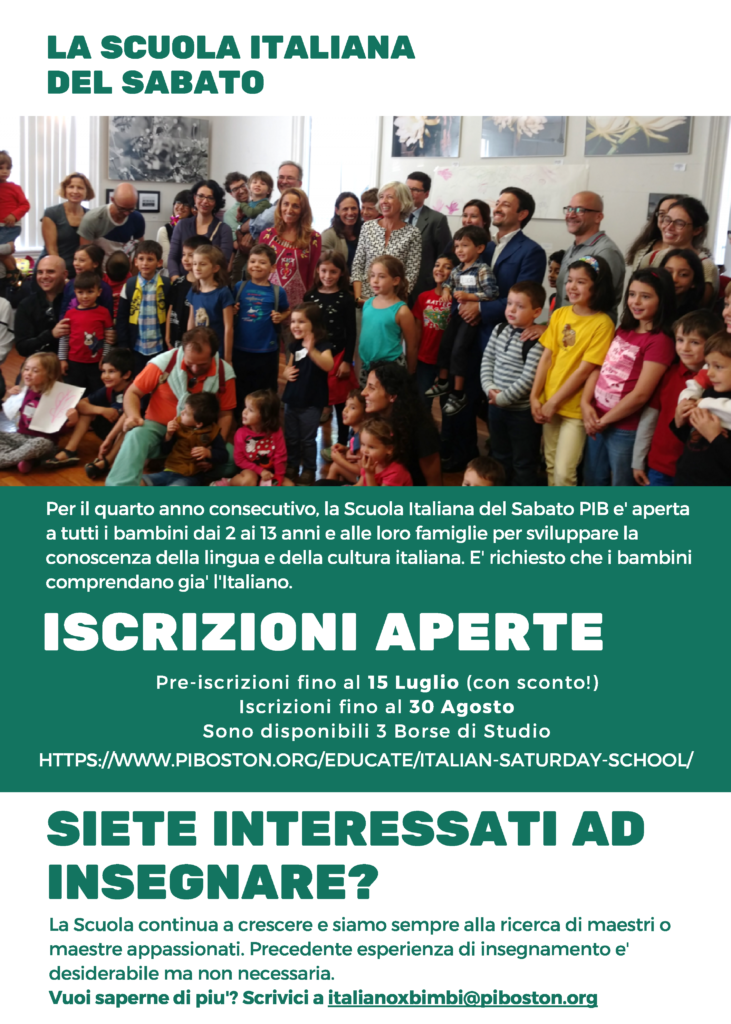 ---
Pre-registrazione corsi 2017-2018
---
Upon submitting this form your will be brought to PayPal to purchase your registration. At the conclusion of the transaction you will be redirected back to this site.