PIB Sailing Championship & Award Ceremony 2015 - Jul 18th
Posted On July 1st, 2015
/ Posted by chiara
/ Category:
PIB News & Events
---
PIB and the Italian Consulate in Boston would like to invite you to our 2015 Sailing Event. This is the third year in a row that we have been realizing the dream of three young sailors of the "Scuola Vela Mascalzone Latino" (Sailing Center in Naples Italy). who will race during the week of July 12-19 in three of the well known sailing centers in Boston (Courageous Sailing Center, MIT Sailing Club, Community Boating). On Saturday, July 18th there will be the final ceremony at the MIT Sailing Center to award and see off the Mascalzone Latino's Team.
The sailing center Mascalzone Latino selects kids from the most disadvantaged neighborhoods in Naples, pushes them to study and learn sailing, getting them out of the street.
We will be hosting the children and if you would like to meet them and invite them for dinner, please write at [email protected]
Final Ceremony
WHEN: Saturday, July 18th, 4:00pm-7:00pm
WHERE: MIT Sailing Pavillon , 134 Memorial Drive, Cambridge
Regattas:
Tuesday July 14th, 5:30 pm at MIT Sailing Pavilion
Thursday July 16th,  5:30 pm at Courageous Sailing Center
Friday July 17th, 10 am at Community Boating Center
The event is sponsored by Danfort Dental Di Frank Facella and Mast' Restaurant and organized with the support of  Marialuisa and Giovanni Saraceni.
Please register for free to the final ceremony by July 15th:
http://pibsailing2015.eventbrite.com/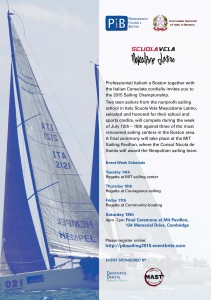 ---