Waiting for Fat Thursday, Carnival Costume Party @Ryles - Feb 22nd
---
When:
February 22, 2017 @ 9:00 pm
2017-02-22T21:00:00-05:00
2017-02-22T21:15:00-05:00
Where:
Ryles
212 Hampshire St
Cambridge, MA 02139
USA

Who says Italians can only sing Opera? Salimblues, an exciting all-Italian Boston band, celebrates Carnival with covers of great Italian songwriters such as Pino Daniele, Edoardo Bennato, Lucio Battisti, Paolo Conte, and many others. A great mix of traditional and modern music, a bridge from Naples to Chicago, featuring histrionic front man Stefano Salimbeni and pyrotechnic blues guitarist Matteo Casini. 

Don't forget your costume! See you there!
WHEN: Wednesday, February 22 2017 at 9PM
WHERE: Ryles, 212 Hampshire St, Cambridge, MA 02139 – (617) 876-9330, rylesjazz.com
ENTRANCE FEE: $10 (to pay at the entrance)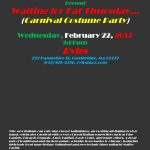 ---