The Intelligence of the European City - a Talk by Antonio Calafati - Nov 18th
---
When:
November 18, 2020 @ 6:00 pm
2020-11-18T18:00:00-05:00
2020-11-18T18:15:00-05:00
Pi-Philly and the Italian Consulate General of Philadelphia invite you to:
"The intelligence of the European City – A talk by Antonio Calafati"
The changes that have occurred in the European Union's institutional setting in the past three decades have been very profound. "Radical internationalization" of society and economy and the strengthening of 'competition' have impacted on many spheres the European society, jeopardizing fundamental values defining the 'European project', or "European dream".
Antonio Calafati will discuss themes from his eminent research on city, territory and society, focusing on the extraordinary case of the European urban system and on how cities may contribute to solving the two overarching and epochal challenges of our time: environmental sustainability and social justice.
Registration is required and can be done using this Eventbrite
link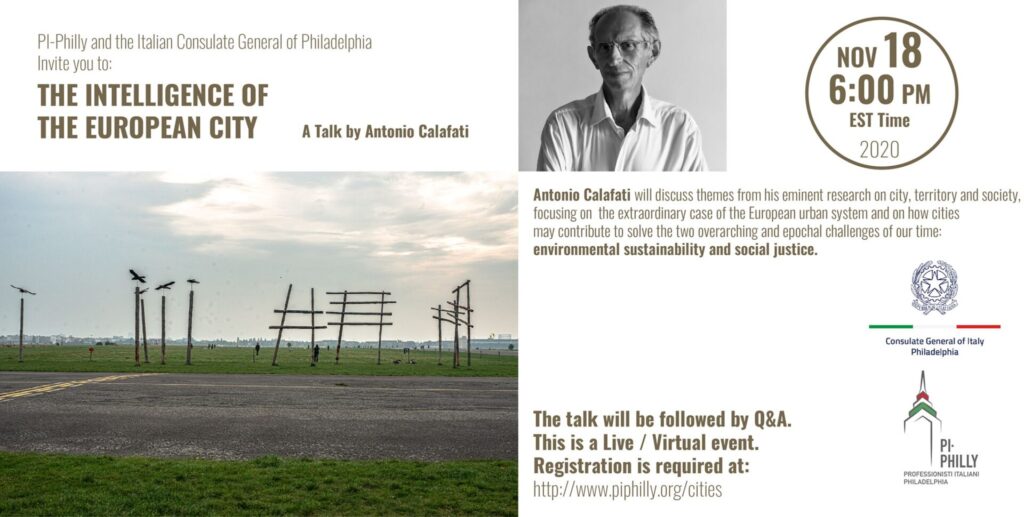 ---