Sissy Castrogiovanni in Concert - May 23rd
---
When:
May 23, 2020 @ 12:00 pm
2020-05-23T12:00:00-04:00
2020-05-23T12:15:00-04:00
Professionisti Italiani a Boston is excited to announce a live, online-only, concert by award-winning singer and songwriter Sissy Castrogiovanni live from our webpage and, concurrently, from the PIB Facebook page.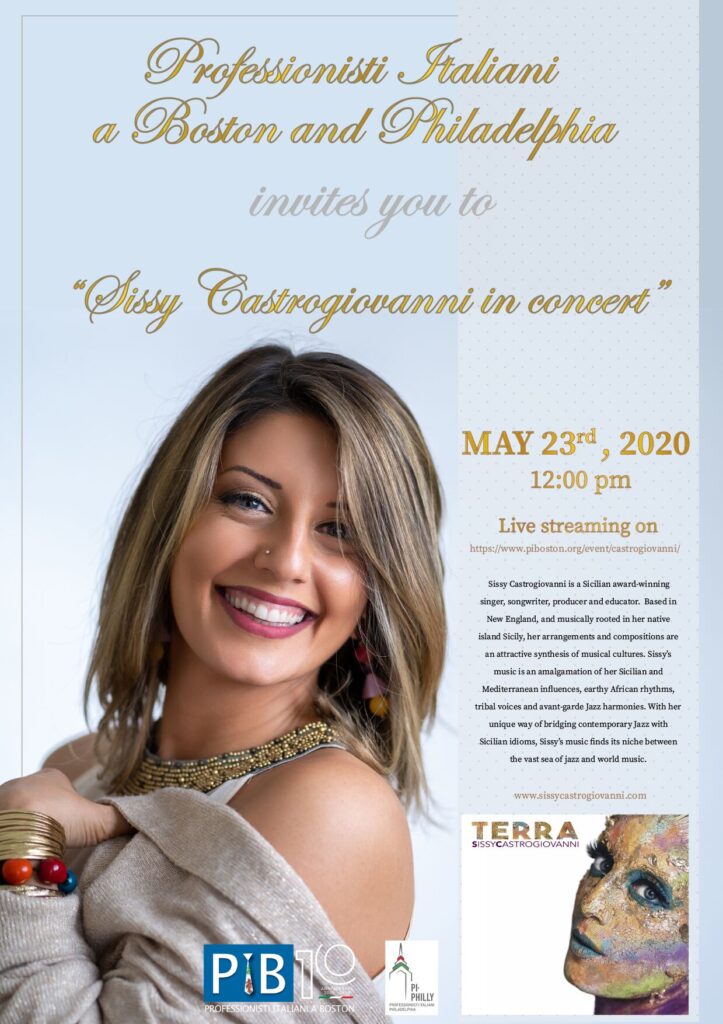 You won't have to leave the comfort of your home, just log in on this event page at 12:00 PM (a video player will become visible) or on the PIB Facebook page to live stream the concert.

Please remember to refresh your page if you log in at exactly 12pm or a bit earlier, the video player may take a moment to appear.
Sissy Castrogiovanni is glad to announce the first single and Official Video of the new album TERRA.
The song is called GANDALF (Wayfaring Stranger)
Gandalf: The wisest wizard. A thousand-year-old man in a white cloak, tall pointed hat, a long, white beard, a pipe, and a powerful magic walking staff. An immortal mountain spirit, full of ever-growing wisdom, trustworthiness, and superior intellect. Wise and Kind guide, he makes a smile to bring peace and turns on a fire to bring light…
The artist's arrangement of the traditional folk song
Wayfaring Stranger….Gandalf is the wise and calming presence through his path.
We're excited to see you join us for this unprecedented opportunity,
The PIB Team
---